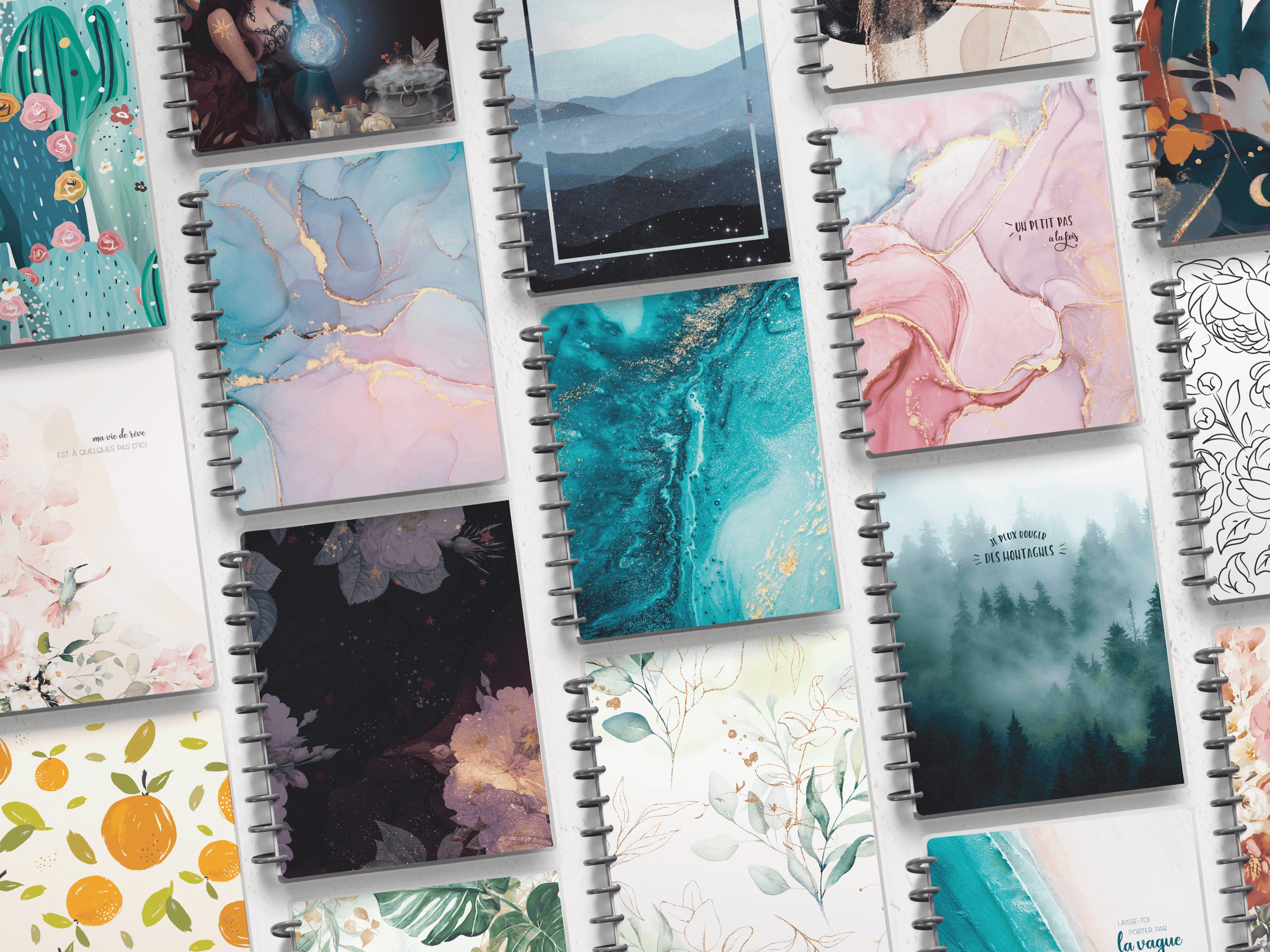 An infinitely refillable
NOTEBOOK
No more notebooks where you run out of space in the middle of your notebook, now you can remove pages, change their place in the notebook and even add more pages to continue your notes!
The advantage of a paper notebook without the disadvantages of a standard spiral notebook
A disc-bound notebook that lets you put in and take out sheets as you please.
Really useful to have a unique notebook, like your needs.
Refillable
Choose the perfect thickness for your notebook by adding or removing pages. Gone are the days when you had to change notebooks in the middle of a subject. Here, you can change the order of the sheets and add more!
Available in 2 sizes
The small format is perfect for nomads at heart. Take your notebook with you wherever you go. For those who prefer to write at length, the large notebook is the perfect ally for big projects.
In French and printed in Quebec
We're proud to have our products printed locally, in our mother tongue!
Solid and interchangeable covers
Sturdy covers are for life! As well as being hard-wearing, they can be changed at any time, so you'll have something new all year round!
Stickers for all tastes
Hundreds of designs to brighten up your notebook and help you mark important days. You'll find a multitude of icons and pictograms specially designed for your organization.
Infinite refills
Refills full of wonders to help you get organized. It really is THE game-changer. Sometimes it's hard to stay motivated and consistent. Refills are your solution!
Several options available
Dotted notebook
Polka dots are perfect for aligning your designs vertically and horizontally. Grey and subtle, they'll blend into the background to give free rein to your creativity.
Lined notebook
The line notebook is the perfect ally for great writers who like simple, effective lines.
Recipe notebook
The recipe book is ideal for keeping all your favourite dishes in one place. No more loose sheets to lose. Everything's beautifully organized. You can even add index pages as needed! Available only in large format.
DISC BINDING, THIS MISUNDERSTOOD CREATURE
Disc binding is still not widely used in binding, so people are a little reluctant to use it since they don't know how it works or if it's reliable.
We love disc binding
Discs adapted to your needs
We love discs for many reasons. They are very solid. The discs are made of light and resistant aluminium;
You can choose the size of your discs according to the quantity of sheets in your planner.
The discs are also customizable: let your creativity run wild with discs of different colors
Allows an infinity of options
You can add and remove sheets at any time and anywhere in the calendar. This is a huge plus when you want to arrange the pages according to your needs.
You can remove the pages of the week to make your planning and your decoration, then put them back in place
( it seems that left-handers love this possibility! )